By Michelle Keegan, Manager Electric Mine Consortium
Three years ago, we expected our decarbonised underground mines, including battery electric trucks, loaders and associated charging infrastructure, would all be in place in the not too distant future. We thought that we would achieve great regeneration of energy on the decline, and in a matter of minutes, the battery could be swapped out or charged.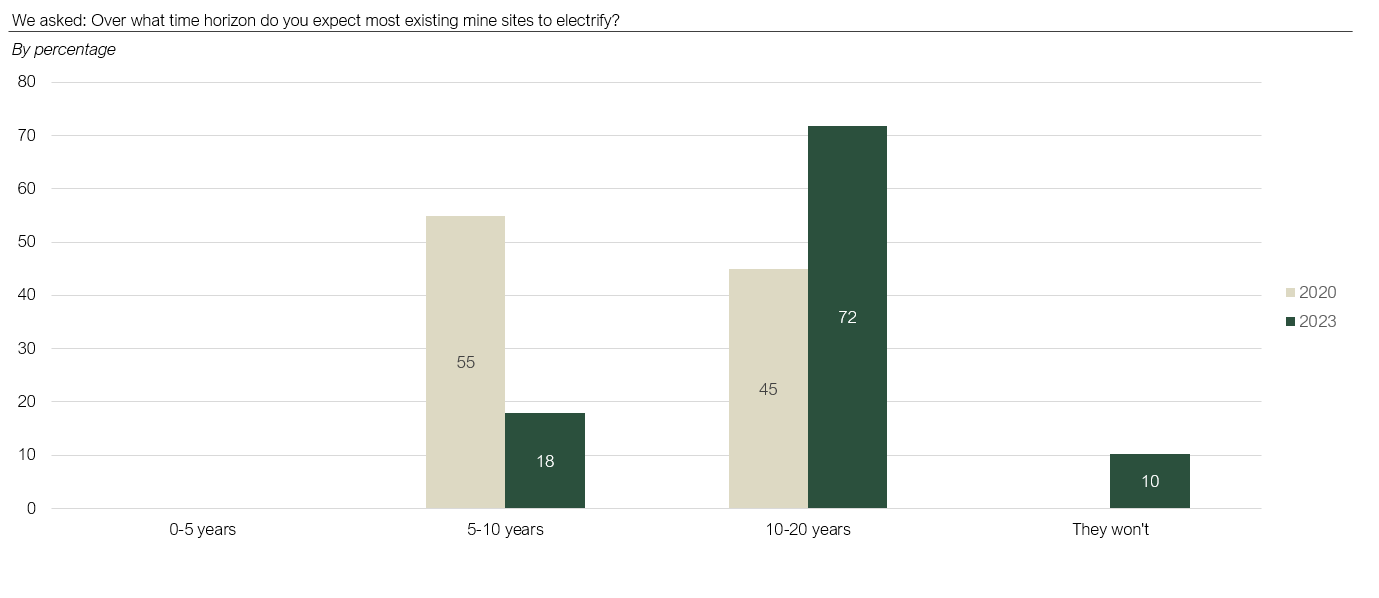 Figure 1 – Survey of expectations on fleet electrification, 2020 – 2023
Three years on, our view on the timing to electrify mines has changed- it will take longer.
The reality is that the current charging technology, charging infrastructure and the number of battery swap-outs required to make it up a typical decline will impact productivity, and our desired solution could be up to 5 years away. We're still learning about battery technology, our management of risk around it and the real productivity impacts with charging. The option of a fast charge is even further from reality and overhead trolley solutions, as illustrated in Figure 2 – while becoming of greater interest – comes with many capital and operating cost considerations, not to mention practical considerations in the underground mine.
The timeline to zero-emissions underground vehicles is therefore likely to take longer to eventuate than what we desire. Fuels will not be fully eliminated for some time, and while biofuels are gaining interest, all of this impacts our mid term goals of reduced emissions by 2030.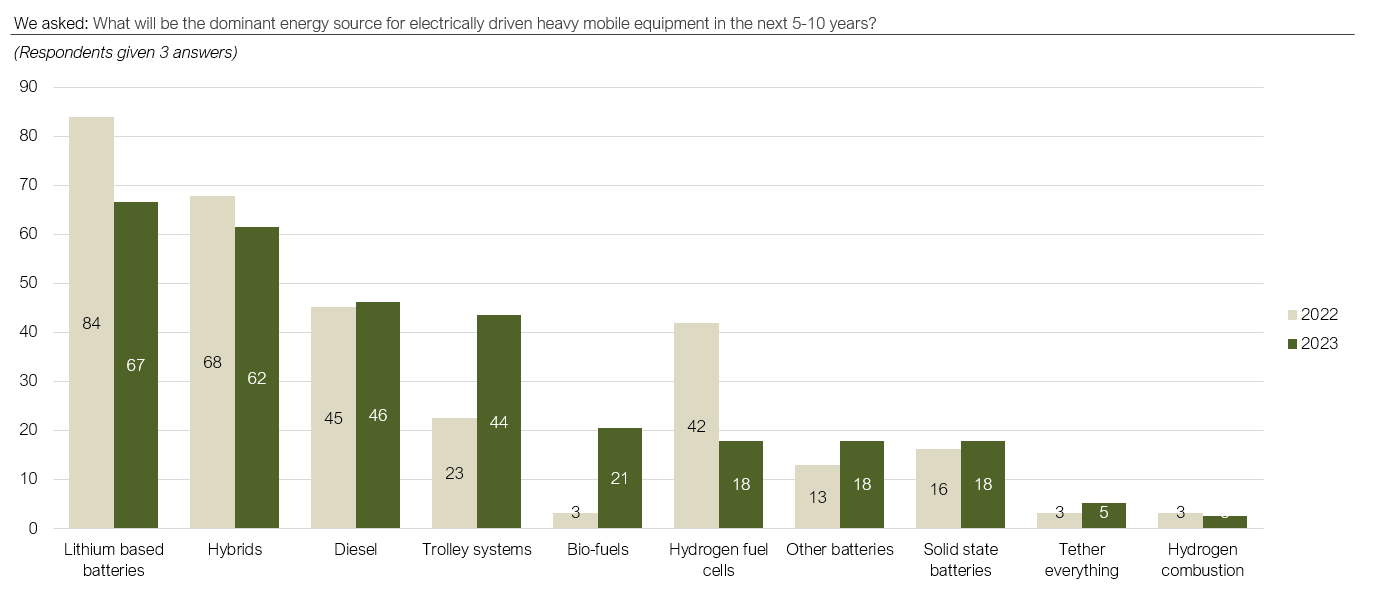 Figure 2 – Survey of expectations on fleet electrification, 2021
We're now seeing OEMs who once thought BEVs were the only path, investing in hybrid vehicles. Miners are starting to trial diesel-electric and hybrid loaders, with significant improvements over diesel alternates, while others are looking more closely at trolleys as a result. Others are going even further, re-visiting total mine design, spending more on up-front ore-body knowledge understanding to incorporate conveyors or shafts.
The longer term reality is driving mining and METs companies to reconsider their roadmap, to pilot alternatives and to drive further innovation.
The alternate pathways we see to decarbonisation are laid out in Figure 3, and further discussed with regards to readiness and considerations for application.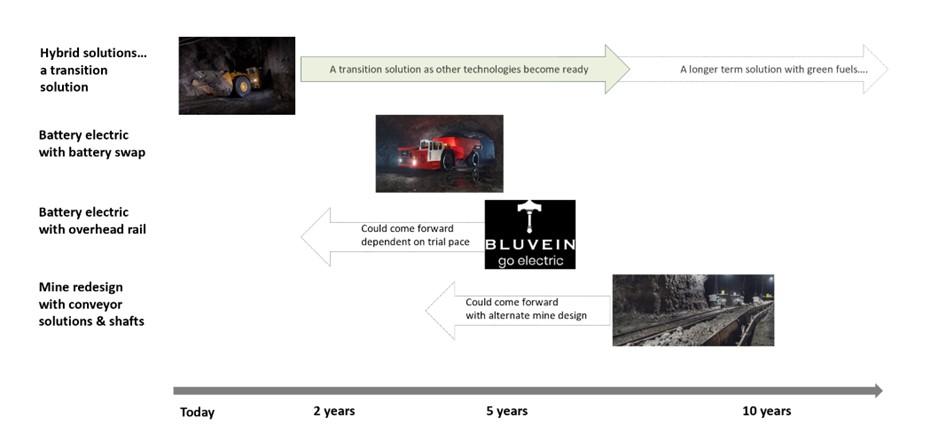 Figure 3 – Alternate pathways to fleet decarbonisation in an underground mine
Technical observations for the alternative pathways
Diesel-electric and hybrid solutions

A number of OEMs already have some hybrid solutions in market today, while others are in the process of designing and building them.

The CAT R2900 XE is a diesel-electric loader which has been trialled now across multiple mines in Australia in 2022/23. With faster acceleration, greater breakout forces and higher lift height, the resulting productivity is 20% greater than a standard R2900. And in addition, fuel efficiency is 31% greater. At the Electric Mine Consortium, four members have trialled the R2900XE, and a number have subsequently gone on to direct purchase. For one member, the improved productivity has enabled more efficient capital spending in fleet replacement with three loaders replacing four.

Komatsu have also released and commenced trials of their WX18H underground hybrid loader, also offering 30% improvement in fuel efficiency.
Bis Industries have commenced commissioning their 80t hybrid diesel-electric haul truck, providing the largest truck on market for underground mining. With underground commissioning expected in early 2024, this provides the first hybrid truck to market, with an electric pathway already in design when technology allows.
From what we have seen so far, OEMs with hybrid offerings also have full electric solutions either in design or development. And in parallel, OEMs such as Sandvik, Epiroc and CAT either have hybrid trucks now in consideration, design or under development, driven by the difficulty in achieving expected outcomes for battery electric.
100% Battery electric solution with charging infrastructure for battery swap

OEMs like Sandvik and Epiroc commonly used in underground mines, are both offering 100% battery electric solutions.

Sandvik offer both the 50 and 65t electric trucks in Australia, with self-swapping batteries and 25t and 9.6t electric loaders. However, the first 65t truck has only just commenced trials in Western Australia and previous trials of the 50t truck are still not in full operation. Initial results and modelling of the smaller truck indicate that productivity will be impacted, with up to 4 battery swap outs up a typical decline being required.

Epiroc offer the 14 and 18t electric loaders and 42t electric truck. With battery swapping also the mode of recharge, this infrastructure is much less operationally efficient than self-swapping machines. At a maximum electric truck size of 42t, this does not meet the typical Australian market needs.

The time it has taken for electric trucks and loaders to be available as required far exceeds what was expected. With productivity issues in battery life and fleet size, not to mention long supply lines, the complete electric truck and loader solutions are not ready for wide scale adoption right now. And the option for full fleet replacement is expected to be up to 5 years away.
100% Battery electric solution with overhead rail

In 2021, seven major mining companies signed funding agreements with BluVein to enable final system development and the construction of a technology demonstration pilot site in Australia. This agreement has since grown in size with 8 miners and OEMs combined.

BluVein is a JV between Oliteck and Evias with a patented electric rail system which is mounted above or beside the mining vehicle. The system is intended to provide power to the vehicle while the vehicle is moving.

As an OEM-agnostic solution, this has the potential to provide a seamless solution on the decline or on main haulage levels.

The technology however is still in development and may take another 2-3 years before it can be piloted at scale and then adopted after that.

Shaft solutions, driven by increased ore reserves, enabling conveyor solutions

Vertical shafts are generally (grade and orebody size dependent) the preferred haulage method for deposits deeper than 500 m or more, but the development rate is slower and construction costs normally much higher. Declines offer early access to shallow deposits, and faster cashflow as a result.
Ore reserves required to justify a shaft are, based on CAPEX, usually significantly greater than that required to commence mining off a decline. However, with shafts in place, the path to decarbonisation is expected to be much easier, enabling installation of conveyors on main haul levels and electric loaders at the production area. This isn't to say only shafts enable conveyors, with the low profile, low footprint Railveyor solution being an option to watch for installation in traditional decline mines.
Increasing ore reserves and shaft sinking are more likely linked to greenfield mine options. Therefore, as a path to decarbonisation, while a great option for future mines, is not an option for current mines
Operational observations
In moving to a battery solution at site, the amount of change to our daily operational processes and practices is significant. With this comes an increased operational cost burden from:

lower initial productivity
retraining
increased maintenance regimes to maintain battery solutions and their infrastructure; and
different, potentially greater safety impost on processes involved in operating and maintaining battery solutions.

The safety expectations and considerations of the use of battery solutions in an underground environment are potentially a constraint underestimated.
The development of the diesel vehicle safety protocols have had decades of focus while the use of battery solutions underground (and the trepidation, imagined or otherwise) of them drives increased scrutiny on their safe operation/implementation and seems to propagate increased requirements on their use that slows their development and increases the capital and operational cost of battery solutions.
A case of the fear of the new and unknown is driving conservatism in decision making, that is not evident in known and accepted technologies like diesel solutions.
Driven by technology available today, hybrid solutions in heavy haul appear to offer a transition technology that will enable lower emissions onsite now, while waiting for technology ready electric solutions . Without requiring additional charge infrastructure, hybrids offer lower emissions, with improved fuel efficiency and productivity. Adoption of this technology can be implemented with limited operational impacts.
As battery density improves and new charging technology evolves, full electric solutions remain a clear solution. However, opportunities remain to pilot electric heavy haul vehicles and alternate charge technology, so that ongoing technology development continues.
The current commonly used diesel solutions are an optimised solution which we've spent over 50 years developing and optimising. It is unrealistic to believe that a battery solution or conveyor solution will be implemented without operational reviews that require new areas of optimisation to occur. A like for like comparison today – without the pressure of a true environmental cost comparison is an unfair comparison – yet remains relatively common, leading to ongoing use of diesel vehicles.
It would take a new entrant to potentially deliver new vehicle designs that optimise for: capital cost, payload/tare weight ratio and speed of haulage. Innovation delivering clean sheet designs rather than incrementalism, may deliver vehicles or other material movement solutions that aren't simply for example traditional chassis' with batteries added.
Digital simulation, while not discussed in this paper, is an obvious technology with application to continue to compare options or technologies as developed, to feed into product and mine design, and so lead to clear options for decline and shaft accessed underground mines.
You may also be interested in...